Bean's Pairing Panic

Bean's Pairing Panic! is a chaotic action-platformer about slinging slimes and bouncing baddies!

Combine two slimes of the same flavor to make a big slime, then throw it out the door to cash it out!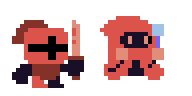 Watch out! Enemies will break in to try and destroy your slimes--throw em against the wall or each other to take them out!

Coming in 2021!